(at our Parsippany Theatre)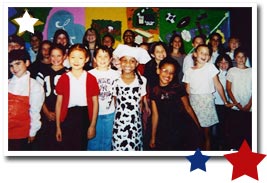 School-year programs are scheduled primarily on Saturday mornings or afternoons. Programs are offered in the spring & fall and are open to all children with or without experience. No auditions are required to register for most programs. Programs are offered in creative dramatics, comedy, and music theatre.
FALL TERM / October - December
WINTER TERM / January-March
SPRING TERM / March - May

Click here for the FALL Program Schedule
Click here for the WINTER Program Schedule
Click here for SPRING Program Schedule
Click here for Registration Form
We offer two HOLIDAY VACATION MINI-CAMPS in December and April especially designed for working parents. They are held weekdays from 8AM-5PM at our Parsippany Rt. 46 West Theatre. Call our office for further details and a registration form. Open to boys and girls ages 6 and up(elementary-middle school).
A special pre-school/kindergarten program is offered for boys and girls ages 4 to 5 on Saturday afternoons in the fall and spring terms.
For school year registration call the theatre for fall & spring registration forms.