During the summer...
ACT sponsors 6 Performing Arts Day Camps at air-conditioned locations in Clinton, Metuchen, Parsippany, and Watchung for children ages
6 to 17.
Mouse Over - For A List of Camp Schedules
Camper drop-off:
Camp operates:
Camper pick-up:
8am - 9am
9am - 4pm
4pm - 5pm
Snacks are provided a.m. and p.m. The children become involved with comedy, acting, singing, dancing, as well as staging and scenery design and development. The camp program culminates in a dress rehearsal and one or more

public performances on the last day of camp. Participants also celebrate with a traditional cast pizza/soda party and receive a printed program and certificate of participation. $190 deposit holds your childs place in any camp.

consists of kids who come from numerous northern-central New Jersey communities. They are involved with varied activities including auditioning, singing, dancing, acting, scenery design and development, rehearsing and socializing. Camp ends on the 10th day after a dress rehearsal and evening public performance(s). A camper pizza/soda party is held during lunch on the last day of camp. Certificates are awarded to all participants. Public Performance tickets are $9.00 per person.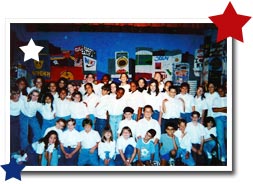 We do not provide bus transportation. Many parents arrange carpools on their own. Extended AM and PM care provided at full day programs at no extra cost.

a production director/choreographer and/or musical director or piano accompanist, scenery director on a daily basis (full day programs). A makeup person and percussionist (in musical productions) work with cast on the last day.

with over 12,000 kids on over 500 productions since 1983. Our youngsters come from over 300 communities and have performed in over 220 locations in New Jersey and New York.